Residential Property Cleaning For HOAs, Condos, Apartments, & More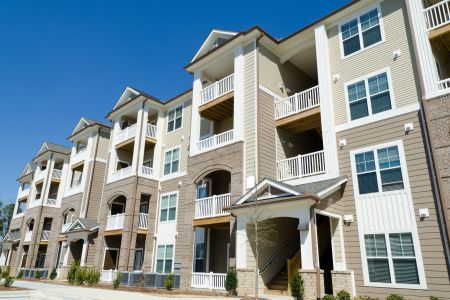 To ensure the cleanliness and visual appeal of your residential properties in Auburn, trust BlueWave ProWash for professional residential property cleaning services. We are dedicated to delivering exceptional results and providing the highest level of customer satisfaction.
We specialize in providing comprehensive residential property cleaning services in Auburn. Whether you manage a homeowner's association (HOA), own a condo complex, or oversee apartment buildings, we have the expertise and resources to keep your properties looking their best.
With our residential property cleaning services, we effectively remove dirt, grime, mold, and other unsightly stains from the exterior surfaces of your properties. Our experts are experienced in working with various types of materials, including siding, brick, stucco, and more. By utilizing high-pressure water streams and specialized techniques, we can deep-clean and revitalize the appearance of your residential buildings.
Maintaining the cleanliness and curb appeal of your properties is essential for attracting tenants, enhancing tenant satisfaction, and preserving property value. Regular residential property cleaning and house washing not only improves the overall aesthetic but also helps prevent potential damage caused by dirt and mold buildup. By partnering with us, you can rest assured that your properties will always make a positive impression. We truly offer unmatched pressure washing for Auburn properties.
Read on to find out more about our various residential property cleaning packages we offer across Auburn. If you have additional questions, don't hesitate to contact us directly. We can't wait to hear from you!
HOA Pressure Washing
Our HOA pressure washing service is tailored to meet the unique needs of homeowner's associations. We effectively clean common areas, entrances, sidewalks, and other exterior surfaces, helping to create a clean and welcoming environment for residents.
Pressure Washing For Apartments
With our pressure washing service for apartments, we rejuvenate the exterior surfaces of the buildings, walkways, parking areas, and other communal spaces. We understand the importance of maintaining a clean and attractive environment for both current and prospective tenants.
Condo Pressure Washing
Our condo pressure washing service focuses on maintaining the cleanliness and appearance of condo complexes. We clean the building exteriors, balconies, patios, and common areas, ensuring a fresh and inviting atmosphere for residents.
Pressure Washing Your Townhouses
For townhouse communities, we offer comprehensive pressure washing services to keep the exterior surfaces looking their best. Our experienced team will clean walkways, driveways, siding, and more, contributing to the overall appeal of the community.
Stop the Grime With Our Bonney Lake Pressure Washing Pros

Give Us a Call Today!