Gutter Clean Outs For Worry-Free Properties In Pierce County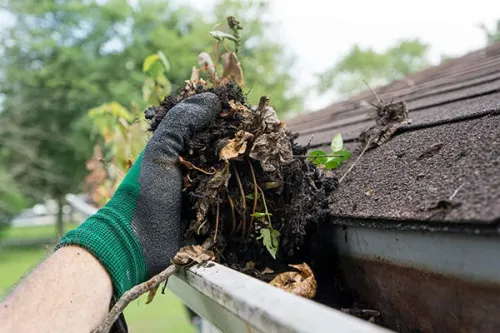 Cleaning out your gutters is probably one of the most bothersome tasks a homeowner has to deal with. Why not let BlueWave ProWash deal with it for you? We offer exceptional and professional gutter cleaning services to the residents of Pierce County so that you can check one more thing off your to-do list.
At BlueWave ProWash, we know that cleaning out your gutter isn't what any homeowner would describe as "fun." However, clean and working gutters serve an essential role. Your roof and gutter chutes work together as a system, with the angle of your roof ensuring that precipitation travels away from the peak of your property and the gutters carrying it away from your home's foundation. Without annual gutter cleaning, heavy precipitation such as snow can build up and weigh down your roof, causing irreparable damage to the home.
We can do so much more than just pressure washing your property's exterior surfaces. BlueWave ProWash is here to clear out those pesky gutters and protect your home from damage. Our gutter cleaning services clear away debris such as leaves, sticks, and dirt to keep your roofing system working perfectly.
Your home is a priority for BlueWave ProWash. We offer our vital gutter cleaning services year-round to protect your home and family. And since we'll be up there, we can provide our premier roof cleaning services as well! Call BlueWave ProWash today for the best pressure washing experience in the Pierce County area!
Downspout Washing For Free-Flowing Gutters
In the foliage abundant area of Pierce County, gutter cleaning is an essential part of home management. Keeping your gutters and downspouts clear of debris can help you avoid several common issues, including:
Leaky roof
Water Damage
Unwanted pests
Foundation issues
Expensive repair costs
The better your roofing system is working, the fewer problems you will have with your home in the long run. At BlueWave ProWash, we offer scheduled gutter cleaning services so you can be assured that your gutters are working as they should, no matter what time of the year it is. So knock another tiresome task off your to-do list and schedule your regular gutter cleaning services with BlueWave ProWash today.
Stop the Grime With Our Bonney Lake Pressure Washing Pros

Give Us a Call Today!