Driveway Washing Can Wash Away Ground-In Stains And Dirt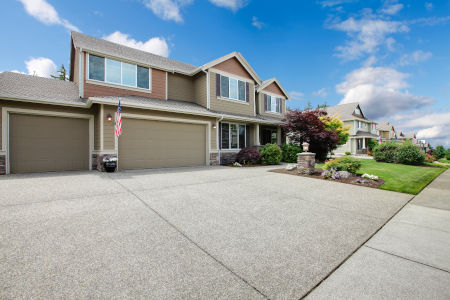 Did you know that we specialize in driveway washing services designed to eliminate ground-in stains and dirt from your Auburn driveway? At BlueWave ProWash, we can effectively remove oil stains, tire marks, dirt, and other unsightly substances, restoring the cleanliness and beauty of your driveway to its original splendor. When it comes to pressure washing in Auburn, nobody can compare to us.
Paved Surface Cleaning To Make Your Property's Exteriors Look Great
We're proud to offer comprehensive paved surface cleaning services to enhance the overall appearance of your property's exteriors. Whether you have a paved walkway, patio, or parking area, our skilled technicians possess the expertise and state-of-the-art equipment required to clean a variety of paved surfaces. We meticulously remove dirt, grime, moss, and other contaminants, ensuring that your paved areas radiate a pristine and well-maintained allure that leaves a lasting positive impression on visitors and guests.
Professional Parking Area Surface Cleaning: Keeping Your Pavement Pristine
Maintaining a pristine parking area is essential for both the aesthetics and safety of your property. Our professional parking area surface cleaning services are meticulously designed to remove oil stains, tire marks, and dirt from your pavement, keeping it impeccably clean and well-maintained. By employing high-pressure washing techniques, we rejuvenate your parking area, ensuring a visually appealing environment and a positive experience for your valued customers and employees.
---
Frequently Asked Driveway Washing Questions
Our driveway washing services are specifically tailored to tackle even the most stubborn embedded stains on your pavement. Whether it's oil stains, grease, or other tough substances, our advanced pressure washing techniques and specialized cleaning agents can effectively eliminate them, restoring the clean and pristine appearance of your driveway with precision and expertise.
Our driveway washing services are meticulously designed to address tough stains, including auto fluids and old stains, on concrete surfaces. Our highly skilled team is experienced in dealing with a variety of stains, and we employ proven methods and eco-friendly cleaning solutions to achieve exceptional results. You can confidently rely on us to restore the fresh and stain-free look of your concrete driveway to its original splendor.
We are deeply committed to providing top-quality driveway washing, building washing, and other surface cleaning services in Auburn. Our highly skilled technicians, equipped with state-of-the-art equipment, exhibit a keen attention to detail, ensuring exceptional results that exceed your expectations.
Stop the Grime With Our Bonney Lake Pressure Washing Pros

Give Us a Call Today!