Best Pressure Washing And House Washing Professional In Puyallup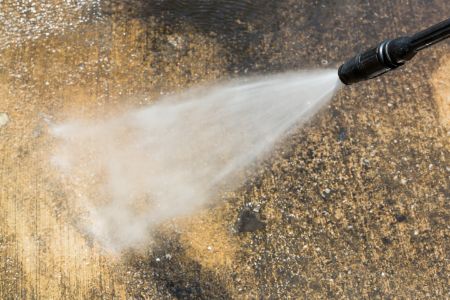 BlueWave ProWash is the top provider of pressure washing in Puyallup. Our company offers only the best services to improve your property, including complete exterior surface cleaning and pressure washing services. The pressure washing solutions provided by BlueWave ProWash are proudly available in Puyallup and beyond.
Get Your Gutters Brightened in Puyallup with BlueWave ProWash
At BlueWave ProWash, we understand the importance of keeping your home looking its best. We specialize in gutter brightening services to help your home look its best. Gutter brightening is a great way to ensure your gutters are looking their best in Puyallup. Our experienced team uses pressure washing and exterior gutter washing techniques to make sure your gutters look bright and new again. We take pride in our work and guarantee great results. Don't wait any longer and get your gutters brightened today with BlueWave ProWash!
The Best Drive-Thru Cleaning Services in Puyallup
BlueWave ProWash provides the best drive-thru cleaning services in Puyallup. Our pressure washing team is highly experienced and can tackle any size job. We understand the importance of having a clean exterior for your restaurant, and we strive to make sure that your drive-thru looks its best. Our exterior restaurant cleaning services are top-notch and we guarantee excellent results. Contact us today at 253-455-0303 to get started!
Rejuvenate Your Puyallup Home's Fence with Professional Washing Services
At BlueWave ProWash, we take pride in our work and strive to exceed our customers' expectations. We offer competitive rates and flexible scheduling options to fit your needs. If you're looking for a reliable and trustworthy fence washing service in Puyallup, look no further than BlueWave ProWash.
Call us today to get started! We can provide you with a free estimate and answer any questions you may have. Let us help you keep your fence looking its best. Contact BlueWave ProWash for all your fence washing needs in Puyallup!
Finding the Right Driveway Washing Company in Puyallup
We believe in providing our clients with the best services and the best customer experience possible. That's why we use the latest pressure washing equipment and techniques to clean and rejuvenate your driveway, leaving it looking like new. So, why wait?
At BlueWave ProWash, we understand the importance of keeping your driveway looking its best. A clean driveway can not only enhance the appearance of your home but also increase its value. With our professional driveway washing services, we can help bring back the beauty of your driveway and restore it to its original condition.
The Many Benefits of Professional Gutter Cleaning in Puyallup
When it comes to getting the job done right, BlueWave ProWash is the place to call for professional gutter cleaning services. Gutters are an important part of any roofing system, and it's important to keep them clean and clear of debris. Without proper maintenance, gutters can become clogged with leaves, twigs, and other debris, leading to water damage, rot, and other problems. BlueWave ProWash's experienced technicians use the latest pressure washing technology to get the job done quickly and efficiently, so your gutters stay in top shape.
Gutter cleaning is an important part of home maintenance. Clean gutters help protect your home and foundation from water damage, as well as provide better insulation for your home. They also keep pests and animals away from the structure of your home. Additionally, regular gutter cleaning can help prevent expensive repairs down the line.
The benefits of professional gutter cleaning from BlueWave ProWash include:
Protection from water damage
Better insulation
Protection from pests and animals
Preventing expensive repairs
For all of your gutter and pressure washing needs in Puyallup, contact BlueWave ProWash at 253-455-0303. Our experienced technicians will be sure to get the job done right the first time, so you can rest easy knowing your home is protected.
Puyallup's Expert Dumpster Pad Cleaning Services - Professional, Thorough, and Eco-Friendly
As a professional dumpster pad cleaning service in Puyallup, BlueWave ProWash understands the importance of having a clean and safe environment. We use state-of-the-art pressure washing equipment to guarantee the highest level of cleaning, offering our clients fast and thorough results.
Our experienced team ensures that each job is done to the highest standards, leaving your property looking neat and tidy. Not only will you benefit from a better-looking property, but you can also enjoy a healthier and safer environment.
Professional and reliable service
High-quality pressure washing
Removes dirt, debris, and odors
Eco-friendly cleaning
For expert dumpster pad cleaning services in Puyallup, contact BlueWave ProWash now at 253-455-0303 for a free quote and consultation.
Professional Building Washing Services in Puyallup
At BlueWave ProWash, we understand the importance of building washing for maintaining the integrity of exterior commercial properties. Our experienced technicians specialize in providing efficient, effective pressure washing services to business owners in Puyallup. Our exterior commercial property washing services are tailored to your specific needs and provide a comprehensive solution to restore the cleanliness and beauty of your commercial property. With our exterior business cleaning services, you can rest assured that your building will remain looking its best for years to come.
We take great pride in our customer service and deliver outstanding results for our clients. Our team of dedicated professionals uses the most advanced pressure washing equipment and supplies, ensuring that you get the highest quality of service. We understand that each commercial property is unique, so we work hard to create a customized solution that meets your individual needs.
If you are looking for reliable, professional building washing services, BlueWave ProWash is here to help. Contact us today at 253-455-0303 to learn more about our exterior commercial property washing and exterior business cleaning services.
Get The Best Residential Pressure Washing Services in Puyallup
At BlueWave ProWash, we understand the importance of residential pressure washing. Puyallup homeowners can trust us to provide quality and professional pressure washing, ensuring that their home looks great and maintains its value. We have the latest tools and equipment to ensure the job is done right.
We have a high level of expertise when it comes to residential pressure washing and we take pride in our commitment to deliver the best results. Our team is knowledgeable and takes the time to understand each customer's needs. We make sure that every job is completed to the highest standards.
For all your residential pressure washing needs, contact BlueWave ProWash today at 253-455-0303. We are committed to providing quality services at competitive prices. Get in touch to experience the BlueWave ProWash difference.
Enjoy Professional Deck Cleaning in Puyallup with BlueWave ProWash
Keep your outdoor living space looking its best by getting your deck professionally cleaned by BlueWave ProWash in Puyallup. With regular cleaning, you can not only maintain its structural integrity but also extend its lifespan. Our experienced team uses the most advanced pressure washing technology available to provide swift and effective deck cleaning services. Contact BlueWave ProWash now for a free quote and get the job done right!
Choose BlueWave ProWash for your deck cleaning needs and enjoy the peace of mind knowing that your deck will look its best. We take the time to assess your deck and make sure it is thoroughly cleaned, ensuring maximum satisfaction. Let us show you why we're the trusted professionals for deck cleaning in Puyallup. Contact us today to get started and get your outdoor space looking its best!
Cleaner, Safer Surroundings with Commercial Pressure Washing in Puyallup
At BlueWave ProWash, we understand the importance of keeping your property clean and safe with commercial pressure washing services. In Puyallup, commercial pressure washing can help remove dirt and grime, which can lead to safer and more pleasant surroundings. The benefits of commercial pressure washing include:
Removing dirt, mold, mildew, and other contaminants
Improving the lifespan of your property
Improving the overall look and feel of your property
Don't let dirt and grime accumulate on your property. Let BlueWave ProWash take care of your commercial pressure washing needs. Contact us today at 253-455-0303 to learn more about our services.
Puyallup House Washing Specialists - Here To Upgrade Your Curb Appeal
Don't let invasive algae, unsightly stains, and grimy buildup make your Puyallup area home look dull and lifeless - call the house washing pros at BlueWave ProWash. We'll come to your rescue and revive your curb appeal! Our skilled exterior cleaning specialists offer a wide variety of quality Puyallup pressure washing services.
No matter your exterior cleaning needs, we have a service to meet your needs. We'll take the pressure off when it comes to safely cleaning your most delicate exterior surfaces - from vinyl to brick to stucco - and restore life to your home's sparkle with our proven soft washing and pressure washing techniques.
When you want a local, reliable exterior cleaning professional you can count on to treat your home with the care it deserves, call or text the house washing specialists at BlueWave ProWash at 253-455-0303 or use our online form to request services in the area.
Watch Your Windows Sparkle with Window Cleaning in Puyallup
Soft Washing Is The Low & No Pressure Tactic That Is Perfect For Puyallup Roofs
If you're worried about a pressure washing service causing damage to your roof with intense high-pressure washing, you can trust that the pros at BlueWave ProWash will only ease your worries. Our pressure washing experts are trained in a technique known as soft washing that will get your roof as clean as possible without the need for high water pressure or dangerous chemicals. Soft washing uses little water pressure to get the job done. Sometimes we'll use little to no pressure at all! This way, the process is bolstered by a strong and eco-safe cleaning solution that lifts away the dirt from your shingles. The water then provides a gentle rinse that sends the muck and grime flowing away from your exteriors.
Our goal is to leave your property in much better shape than we found it, and by utilizing soft washing for roof cleaning, we can do just that! When we're all done with our work, you'll be amazed at the results. For roof cleaning and other soft washing services for your Puyallup home, call BlueWave ProWash today!
Professional Storefront Cleaning in Puyallup, Delivering Spotless Results
BlueWave ProWash is your trusted source for quality storefront cleaning in Puyallup. Our team of pressure washing experts specializes in business facade washing, retail property pressure washing, and other services designed to give your storefront a spotless finish. We understand the importance of having a clean, attractive storefront, and we are committed to delivering the highest quality results. With our experience and dedication to customer satisfaction, BlueWave ProWash is the best choice for your storefront cleaning needs. Let us help you bring the shine back to your business facade washing project today!
At BlueWave ProWash, we use advanced pressure washing techniques to clean and sanitize your storefront. Our advanced equipment and experienced team of professionals allow us to tackle any job—no matter the size or complexity. We also offer affordable rates and flexible scheduling, so you can get the services you need without breaking your budget. With BlueWave ProWash, you can trust that your retail property pressure washing project will be completed with the utmost care and quality.
Areas We Service Aside From Puyallup
Our professional pressure washing company is here to help Puyallup and beyond with our expertise and superior customer service. We work tirelessly to make sure your and your property's pressure washing needs are satisfied. We currently service Puyallup and the following areas:
Auburn
Bonney Lake
Buckley
Enumclaw
Federal Way
Gig Harbor
Kent
Puyallup
Renton
Sumner
About Puyallup, WA
Puyallup, WA is a vibrant city in Pierce County with a population of around 40,000 residents. It is famous for hosting the Washington State Fair, one of the largest fairs in the state, attracting millions of visitors each year. To learn more about what we can do for your Puyallup home in terms of pressure washing, call us today.
Stop the Grime With Our Bonney Lake Pressure Washing Pros

Give Us a Call Today!