Warehouse Pressure Washing Ensures Safer, Cleaner Facilities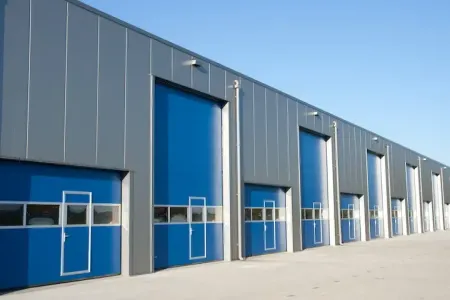 With our expertise in warehouse pressure washing techniques and industrial surface cleaning, we can effectively remove dirt, grime, grease, and other contaminants from your Auburn warehouse, ensuring a safer and cleaner working space.
Warehouse pressure washing goes beyond mere aesthetics. A clean warehouse not only improves the overall appearance but also contributes to the well-being of your employees. Accumulated dirt, oil, and other substances on floors, walls, and equipment can create hazardous conditions, leading to slips, falls, and accidents. Our professional warehouse pressure washing service helps eliminate these potential risks, creating a safer work environment for your staff.
Industrial Surface Cleaning
Our industrial surface cleaning service is designed to address the unique cleaning needs of industrial facilities. We specialize in removing tough stains, grease, oil, and other contaminants from various surfaces, including concrete floors, metal structures, machinery, and more. With our advanced warehouse pressure washing equipment and eco-friendly cleaning agents, we can restore the cleanliness and functionality of your industrial surfaces. Nobody compares to us when it comes to pressure washing for Auburn properties.
Customized Cleaning Solutions For Your Warehouse
We understand that every warehouse is different, with unique cleaning requirements. That's why we offer customized cleaning solutions tailored to your specific needs. Our experienced team will assess your warehouse and develop a cleaning plan that targets the areas of concern. Whether you need a thorough floor cleaning, equipment washing, or overall warehouse revitalization, we have the skills and equipment to deliver exceptional results.
Top-Quality Storefront Cleaning
Storefront cleaning is essential for maintaining a professional and inviting appearance for your business. A clean and well-maintained storefront not only creates a positive first impression on customers but also enhances your brand image. Our storefront cleaning service focuses on removing dirt, grime, and other unsightly stains from windows, doors, signage, and exterior surfaces. With our attention to detail and expertise in pressure washing techniques, we ensure that your storefront shines, making it stand out and attract more customers.
With our attention to detail, dedication to safety, and commitment to customer satisfaction, you can trust us to provide the highest quality warehouse pressure washing and industrial surface cleaning services in Auburn. Don't compromise the cleanliness and safety of your facility—contact us today to schedule a service and ensure a cleaner and more productive working environment.
We look forward to helping you make your warehouse look amazing with our superior warehouse pressure washing service package!
Stop the Grime With Our Bonney Lake Pressure Washing Pros

Give Us a Call Today!