Drive-Thru Cleaning For Perfectly Maintained Properties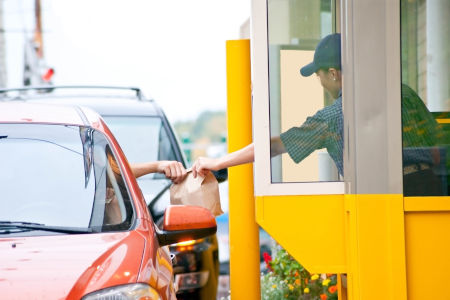 We provide top-quality drive-thru cleaning services to help restaurants in Puyallup maintain a pristine exterior. Our professional team utilizes only the best pressure washing techniques to remove dirt, grease, oil, and other stains from drive-thru lanes, sidewalks, curbs, and other exterior surfaces, ensuring a clean and inviting experience for your customers. When it comes to pressure washing for Puyallup restaurants, nobody compares to us.
Exterior Cleaning For Restaurants
Our comprehensive exterior cleaning services for restaurants in Puyallup go beyond just drive-thru cleaning. We understand that maintaining a clean and inviting exterior is crucial for creating a positive impression on your customers. That's why our skilled team is equipped to clean a variety of surfaces throughout your restaurant property.
When it comes to building exteriors, we have the expertise and tools to remove dirt, mildew, and other contaminants that can accumulate over time. Whether you have brick, stucco, siding, or another type of exterior material, we use specialized pressure washing techniques to restore its original luster and enhance the overall appearance of your restaurant. You can trust us with addressing your drive-thru cleaning and other pressure washing needs.
Expert Power Washing for Pristine Surfaces
We take pride in delivering expert power washing services to ensure pristine surfaces for your restaurant. Power Washing includes heating the water up to 250 degrees to help remove tough stains. Our team is trained in the proper use of high-pressure water and specialized cleaning agents to effectively tackle tough stains and stubborn grime. Whether it's removing grease from your drive-thru or rejuvenating your outdoor seating area, we have the knowledge and tools to achieve exceptional results.
With our drive-thru cleaning and exterior cleaning services, you can create a positive first impression for your customers. A clean and well-maintained exterior not only enhances the overall aesthetics of your restaurant but also promotes a safe and inviting environment. Our professional team understands the unique needs of restaurant businesses in Puyallup and is committed to providing exceptional service tailored to your specific requirements.
Contact us today or visit our website to schedule a service. Experience the difference of our drive-thru cleaning and exterior cleaning services, as well as driveway washing and other related services, and let us help you maintain a perfectly maintained property for your restaurant. With our expertise in pressure washing, we can ensure a spotless drive-thru and exterior that will leave a lasting impression on your customers.
We can't wait to hear from you and to help you with your drive-thru cleaning needs!
Stop the Grime With Our Bonney Lake Pressure Washing Pros

Give Us a Call Today!