Building Washing Made Easy With Our Expert Help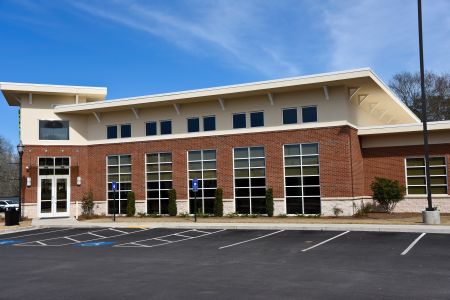 At BlueWave ProWash, we specialize in professional building washing services to help you maintain the cleanliness and appeal of your business buildings in Bonney Lake. Our expert team utilizes advanced pressure washing techniques and equipment to provide thorough exterior cleaning that removes dirt, grime, and stains from a variety of surfaces.
Maintain Your Business Buildings With Exterior Building Cleaning
With our building washing services, we can effectively clean the exterior of various business buildings, including offices, retail stores, restaurants, warehouses, and more. Whether you have a small storefront or a large commercial complex, our skilled technicians have the knowledge and experience to tackle projects of any size.
Providing Your Business With Expert Business Building Washing
Regular building washing is essential to keep your business buildings looking their best. Over time, dirt, pollution, and weather elements can take a toll on the appearance of your exterior surfaces. Our professional building washing services can revitalize your building's facade, sidewalks, parking lots, and other areas, creating a clean and welcoming environment for your customers and clients.
In addition to building washing, we offer a range of other services to meet your business's specific needs. From storefront cleaning to roof cleaning and pressure washing, we have the expertise to deliver exceptional results across all aspects of exterior maintenance.
At BlueWave ProWash, we understand the unique requirements of businesses in Bonney Lake. Our building washing services are tailored to meet the specific challenges presented by the local climate and environmental factors. We utilize eco-friendly cleaning solutions and proven techniques to ensure a safe and effective cleaning process.
---
Frequently Asked Building Washing Questions
We have the capabilities to clean a wide variety of business buildings in Bonney Lake. Our expertise covers office buildings, retail stores, restaurants, industrial facilities, warehouses, and more. No matter the size or complexity of the building, our skilled technicians are equipped to handle the job with precision and efficiency. We understand that each building has unique cleaning needs, and we customize our approach to ensure optimal results. Whether it's removing dirt, grime, stains, or tackling specific challenges like grease or mold, our building washing services can transform the exterior of your business property.
The frequency of building washing and business pressure washing depends on several factors, including the location of your business, the surrounding environment, and the specific cleaning needs. In general, it is recommended to schedule building washing at least once a year to maintain a clean and appealing exterior. However, certain factors may require more frequent cleanings. For example, businesses located near high-traffic areas, construction sites, or areas with heavy pollution may benefit from more frequent washing.
Stop the Grime With Our Bonney Lake Pressure Washing Pros

Give Us a Call Today!